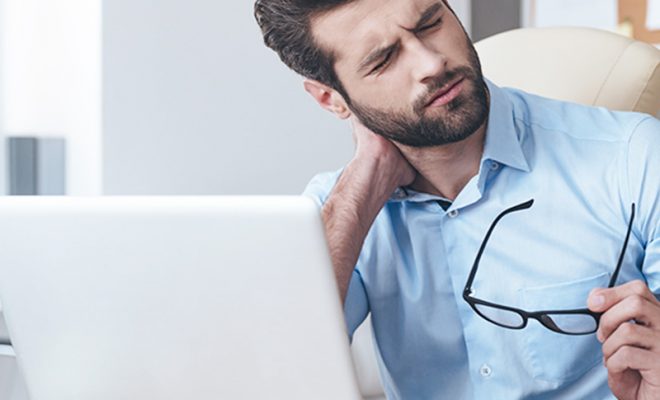 Cervicalgia or neck pain is a common problem. Neck and shoulder pain can be an acute or chronic problem. Acute neck pain has many causes, trauma such as whiplash, sleeping in a poor position leading to a stiff neck or straining neck muscles from carrying a heavy object. Chronic neck pain may be caused by sitting at computers, poor posture, incorrect driving position or pathological conditions such as spinal stenosis or osteoarthritis.
When joints in the neck or upper back become restricted the muscles in the neck and upper back can become "hypertonic", meaning they are abnormally tight, hampering both movement and causing pain.
One of the best ways to resolve neck and shoulder pain is with osteopathy treatment – a corrective manual therapy that encourages boney and muscular alignment of the neck and upper back muscles that become strained from overuse.
Osteopathic manipulative treatment (OMT) is a form of osteopathic medicine. According to the tenets of osteopathy, a person is a unit of mind, body, and spirit and is self-healing. Making an osteopathic diagnosis and treatment plan will utilize these tenets, including the interrelationship of structure and function, precise palpation, manual tests, and techniques to find and treat the causes of dysfunction and restore mobility to each system of the body.
The field of manual medicine and manual therapy has much to offer in the treatment of head, neck, and facial pain. OMT is characterized by precise noninvasive manipulative techniques, which are individually adapted to respond to tissue quality in order to maintain or restore the circulation of body fluids.
The result? You will feel very relaxed, have increased neck and shoulder mobility and you can get on with your life without pain. Each osteopathic treatment goes beyond relieving neck and shoulder pain. Kriston Osteopathy Clinic will also show you how to manage your posture and movement habits to help prevent the neck pain returning.