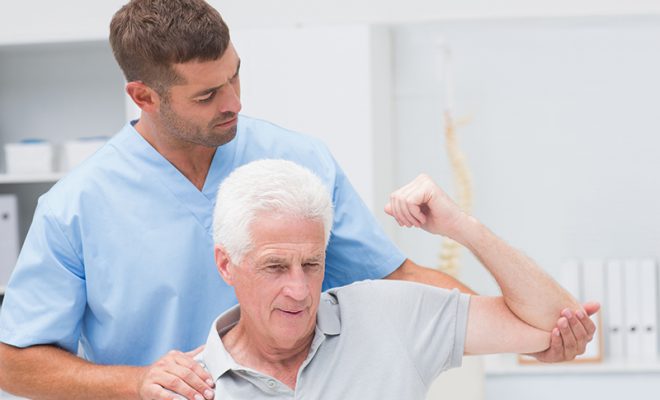 Physicians like Hippocrates and later Galen are believed to have been the first practitioners of physical therapy, advocating massage, manual therapy techniques and hydrotherapy to treat people in 460 BC. After the development of orthopedics in the eighteenth century, machines like the Gymnasticon were developed to treat gout and similar diseases by systematic exercise of the joints, similar to later developments in physical therapy.
The earliest documented origins of actual physical therapy as a professional group date back to Per Henrik Ling, "Father of Swedish Gymnastics," who founded the Royal Central Institute of Gymnastics (RCIG) in 1813 for manipulation, and exercise. The Swedish word for physical therapist is sjukgymnast = someone involved in gymnastics for those who are ill. In 1887, PTs were given official registration by Sweden's National Board of Health and Welfare. Other countries soon followed. In 1894, four nurses in Great Britain formed the Chartered Society of Physiotherapy.
The School of Physiotherapy at the University of Otago in New Zealand in 1913, and the United States' 1914 Reed College in Portland, Oregon, which graduated "reconstruction aides." Since the profession's inception, spinal manipulative therapy has been a component of the physical therapist practice.Modern physical therapy was established towards the end of the 19th century due to events that had an effect on a global scale, which called for rapid advances in physical therapy.
Physical therapy attempts to address the illnesses, or injuries that limit a person's abilities to move and perform functional activities in their daily lives. PTs use an individual's history and physical examination to arrive at a diagnosis and establish a management plan and, when necessary, incorporate the results of laboratory and imaging studies like X-rays, CT-scan, or MRI findings. Electrodiagnostic testing (e.g., electromyograms and nerve conduction velocity testing) may also be used.
PT management commonly includes prescription of or assistance with specific exercises, manual therapy and manipulation, mechanical devices such as traction, education, physical agents which includes heat, cold, electricity, sound waves, radiation, Physical therapy is a professional career which has many specialties including musculoskeletal, sports, neurology, wound care, EMG, cardiopulmonary, geriatrics, orthopedics, women's health, and pediatrics. Neurological rehabilitationis in particular a rapidly emerging field.